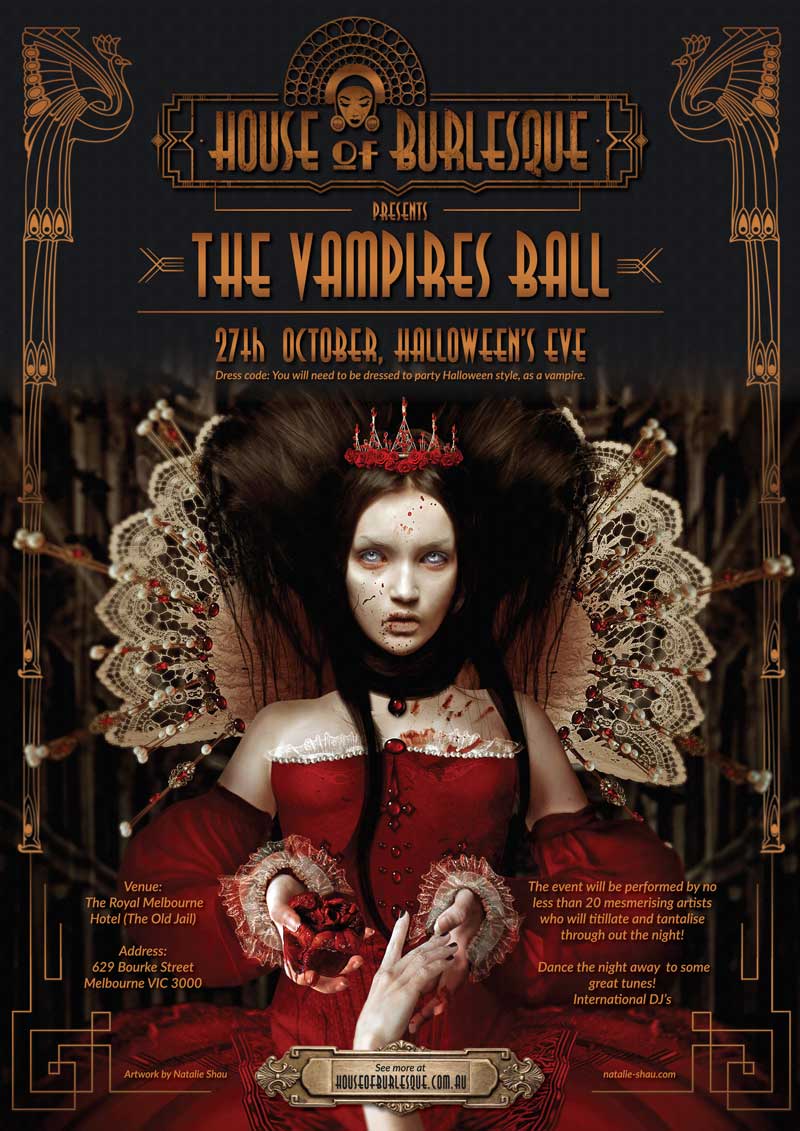 THE VAMPIRES BALL IN MELBOURNE…BE AFRAID…VERY AFRAID…

Halloween is just around the corner and The House of Burlesque got a truly frightful treat in store for you.
When you want to celebrate this bewitching night there's only one place in Melbourne you'll want to be and that's at the Vampires Ball. It promises to be a deliciously wicked night of terrifyingly devilish entertainment. Welcome in Halloween and delight in all the thrills that this chilling night has to offer.
You're invited to delve into a spellbinding world of enchanting pleasure brought to you by The House of Burlesque and it promises to be an event to outstrip anything that's ever come before. Don't miss out; past events have sold out in hours.
The Vampires Ball will be held on the 27th October, Halloween's eve…at:
The Royal Melbourne Hotel (The Old Jail)
629 Bourke Street
Melbourne
VIC 3000
Dress: You will need to be dressed to party Halloween style, as a vampire.
Witness an incredible evening of fiendishly decadent merrymaking headlined with the Vampire's Waltz. The event will be performed by no less than 20 mesmerising artistes who will titillate and tantalize!
Come dance with us on Hallowed Eve
For what promises to be a night you'll never want to leave.
The vampire darkness with all its delight
Will immerse you in a terrifyingly spectacular night.
A haunting rhythm of thousands of revellers sway
To sensual dance whiling the hours away.
The music filling the ballroom with intense power
As time approaches the witching hour…
Let the spirited performers lead you in spellbinding dance
For this Vampires Ball is a game of chance…
THE VAMPIRES BALL IN MELBOURNE…BE AFRAID…VERY AFRAID…

Pink Minx, Elizabeth Bathory The Blood Countess
So legend tells us in the 16th century The Blood Countess Elizabeth Bathory of Hungary murdered 650 innocent victims and bathed in their still warm blood in order to prolong her stunning beauty. Or was she the victim of another's cunning plan? Halloween is the night when you will finally learn the truth. Peek behind our grand velvet curtains and step into The Blood Countess' world. You will witness her in her infamous bathing quarters and see for yourself whether she was victim or vampire!
Gazelle, Mircalla
We take you back to the 16th century where you will meet Countess Mircalla Karnstein, from the book Sheridan Le Fanu's The Dark Blue. The date is 1545, her name is Carmilla and she is just 23 years old, a rare beauty with a dark story. For Carmilla is a vampire, bitten as a young woman and transformed for everyone into Mircalla, the vampire. She makes all who meets her fall desperately in love with her and then pleasures them to death. Do take care ladies, her true favourite poison is young, beautiful women.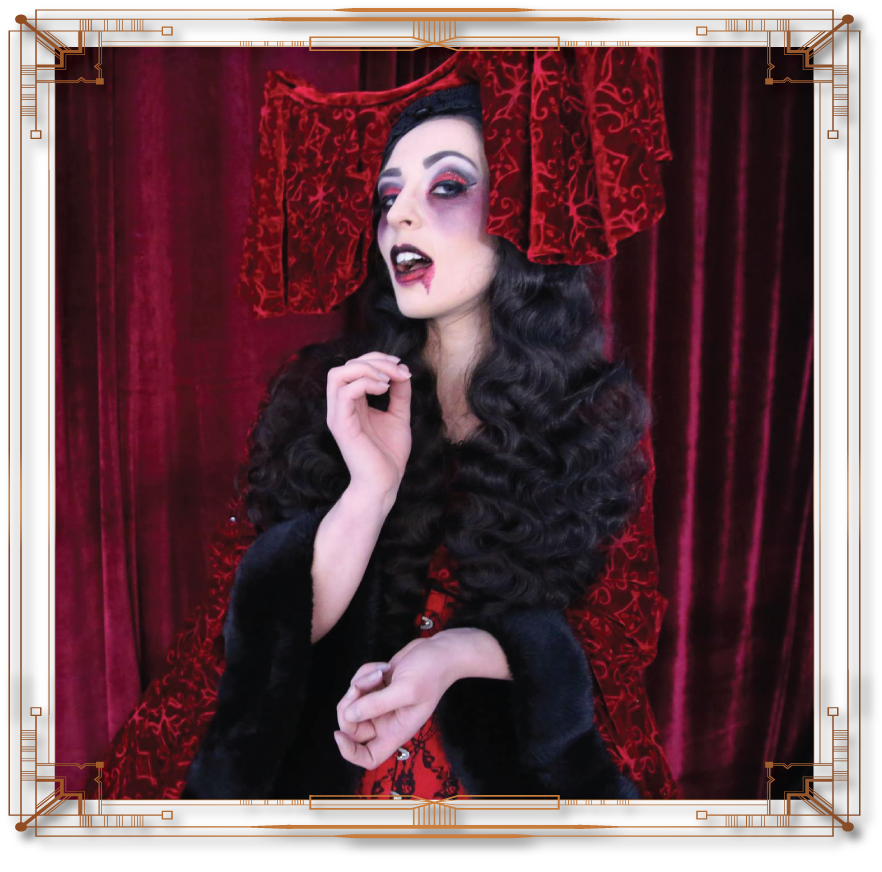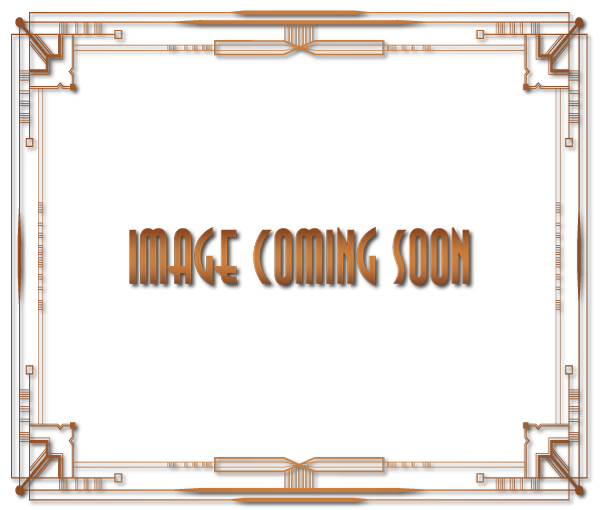 Dracula (Performer TBA)
No evening would be complete without a visit from Count Dracula who will be accompanied by the deathly sounds of a lone violinist. Dracula, the most famous of all vampires would seduce beautiful young women with his charm and exotic good looks. Of course, Dracula really did exist in the 15th Century and was Vlad the Impaler from Transylvania. As the legend says, vampires never actually die so who knows what the evening will bring? Be prepared for your heart rate to race far faster than ever before but do pay attention to your neck, you never know who might want to take a bite…
I am the undead; living in darkness is light to me
I seek out your blood, for I know the secret to eternity.
You will fall into my arms, my thirst is so great
Succumb to my need, for it is your fate.
There will be no gravestone while I roam the earth
My love, I will show you the path to rebirth.
I'm Lord of the Vampires, come and spend death in my wake
For the world of the living is ours to go and take.
Pink Minx, Lucy Westenra

Lucy Westenra is a truly radiant beauty, a vivacious young woman with a lust for life. She is pure, sweet and adored which is why she is seen as such a wonderful catch for many young men who wish to be considered as a suitor. However….something far more sinister arrives at her bedside, something lustful which awakens her deepest wanton desires and lures her into a world of bloodthirsty vampires. She becomes the Countess of Dolingen but something isn't quite right. Her flowing hair is stark white, crimson blood drips from her full ruby lips and her eyes are now bottomless voids. Keep your eyes closed! You never know what you might see… we dare you to peak through your eyelashes…..and see what Bram Stoker, writer of Dracula and The Countess Dolingen has in store for you.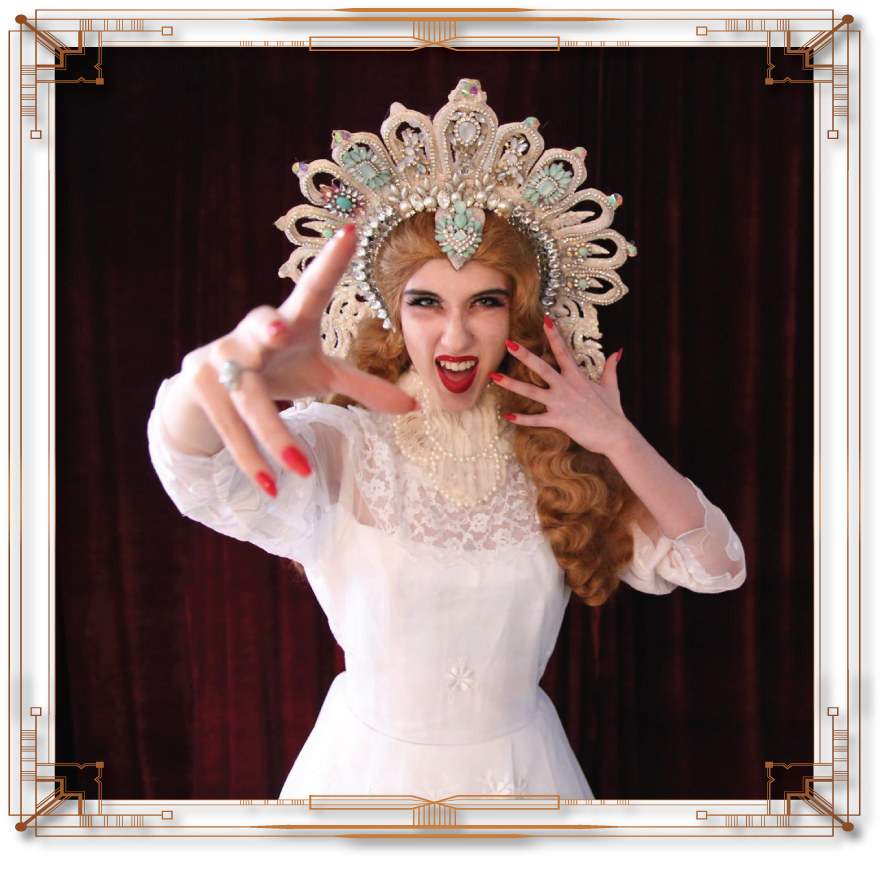 Gazelle Carmilla
Our dramatic act takes place when Carmilla is at her most powerful, she will seduce you, court you and immerse you into her world by giving the women in the audience gentle kisses and tokens from her clothing. Watch her breathtakingly transform from Countess to vampire as she strips from her decadent opulent clothing until she resembles a vampire when she rests in her grave. Carmilla will be accompanied by four other risqué Burlesque performers.
Queen of The Damned Shamita Sivabalan

Picture the scene. The time is past midnight. A devastatingly beautiful female vampire called Akasha lurks alone on the empty city streets searching for her betrayer. She sees a male. She approaches him, silently; stealthily ready to make her move. She moves in for the kill and drinks his blood. Queen of the Damned, she has destroyed him but she has a bigger purpose. She must find the one who has defied her – the one who has betrayed her so the hunt continues. The dance you will witness is that of Akasha, an alluring, powerful dance which is both captivating and erotic. You will feel her wild pain and her crazed mind as she writhes to the music taking you on her evil journey. Will you be able to keep up?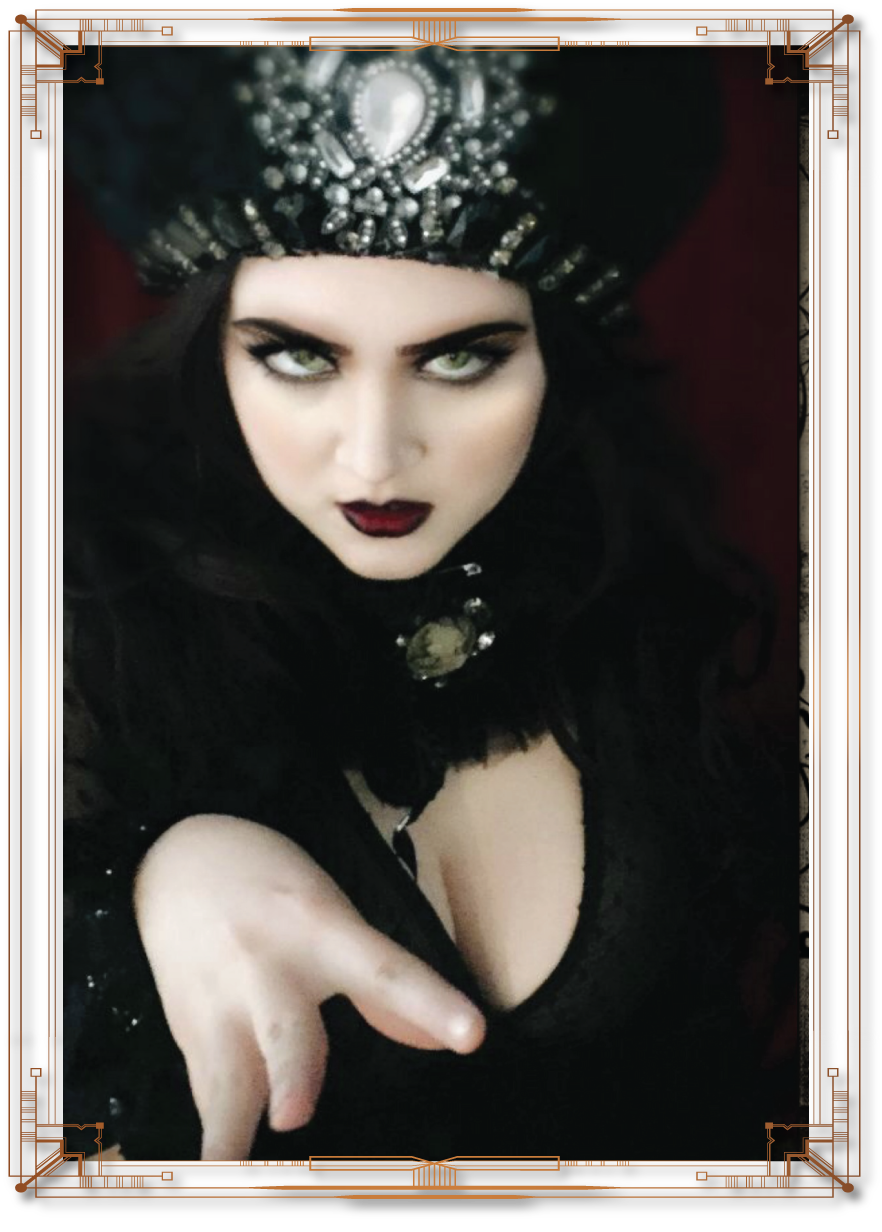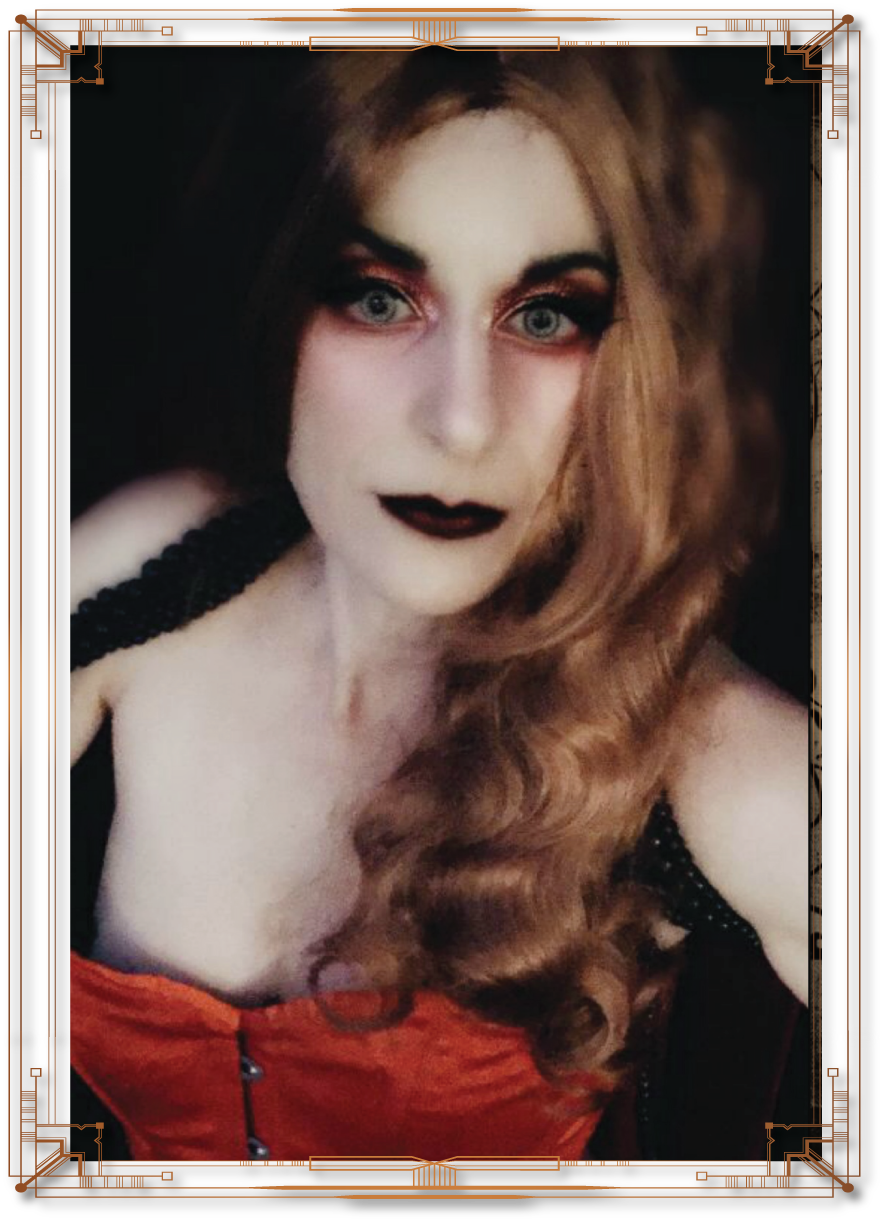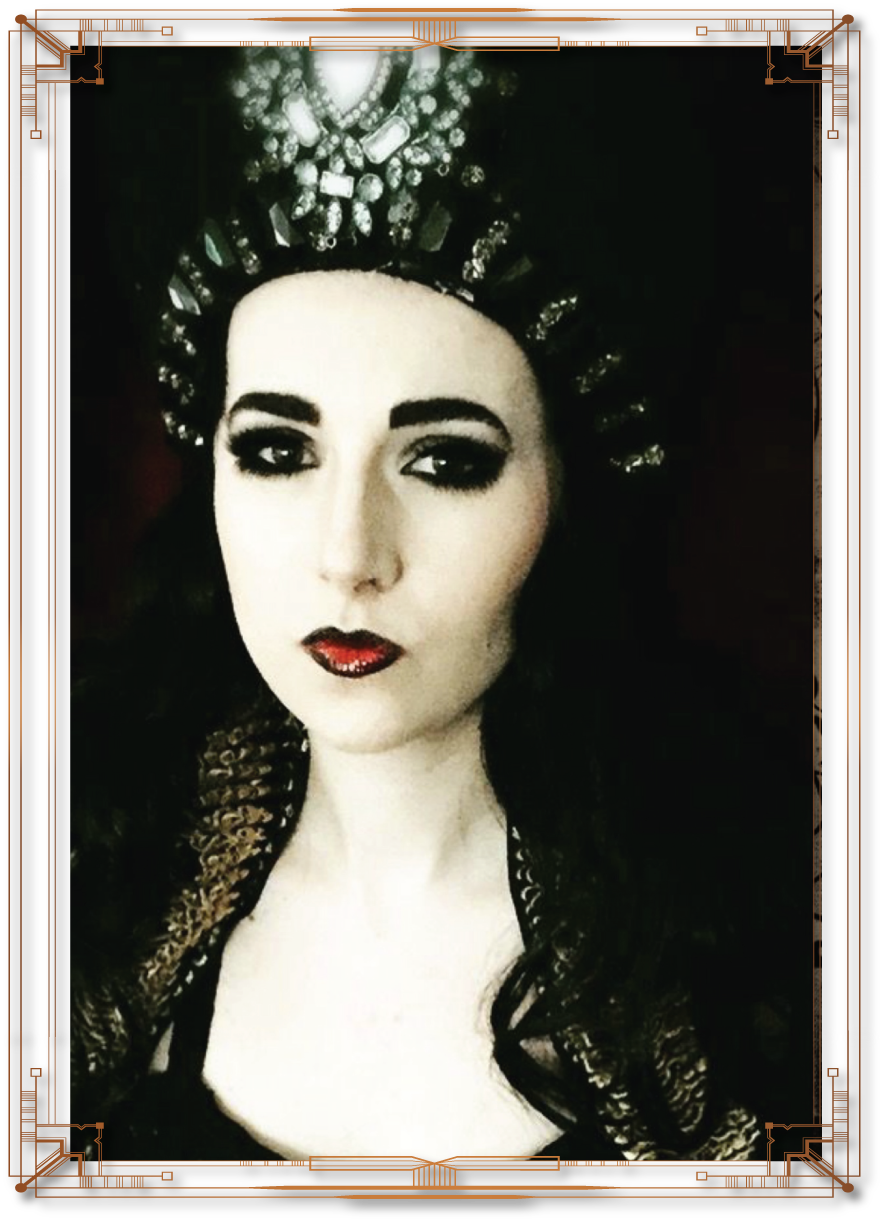 Our DJ's For The Night Are: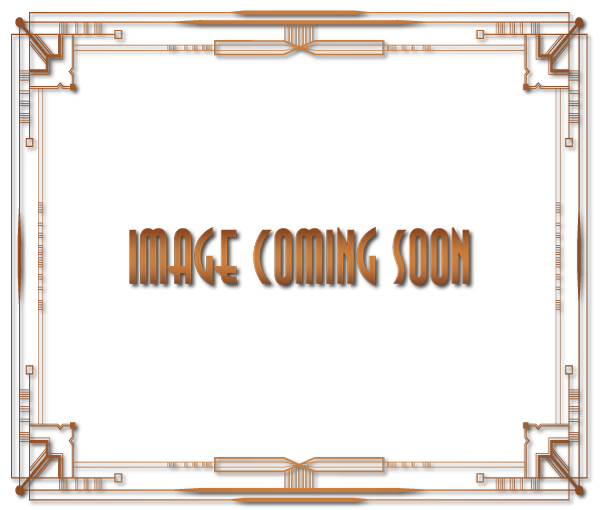 Stevie Strafford
There are few DJ's who comes close to Stevie. Witness the magic of his unrivalled beats and deep vibes when he gets behind the decks. With a combination of soulful sounds and electronic sweetness Stevie will take charge of all the music for the Vampires Ball giving you a magnificent set list of superb tunes to complement Halloween.
With a passion for all music genres, Steve comes to us all the way from Bonnie Scotland. He's worked for years in music, having been involved in bands, writing his own music and lyrics, playing guitar and performing all over the United Kingdom. Since he's moved to Australia, his focus has been on DJ'ing and electronic artistry. There's no doubt his performance style and set creation is truly unique. He's played for In2Deep and FabriKation as well as appearing on several international line-ups including D-Nox, Sam Paganini and D.A.V.E the Drummer.
No House of Burlesque event would be complete without him and if you're looking for atmospheric Halloween-style music, step this way.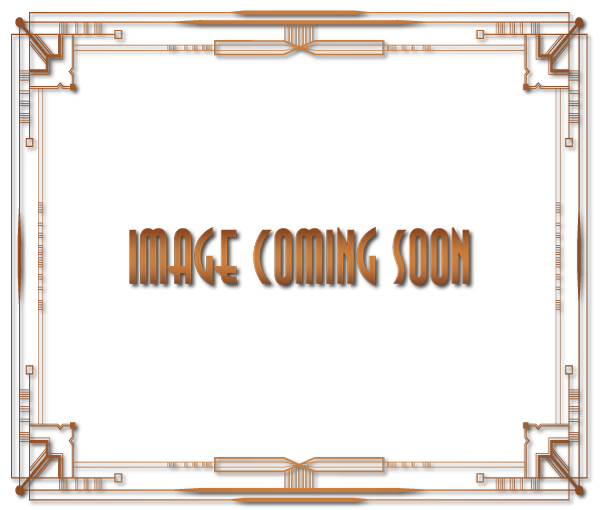 Melbourne's Beloved NYE Burlesque Event Organisers & More
December 31st is the most widely-celebrated evening of the entire year, and if you're hosting a party, you'll need the right entertainment to ensure it goes off with a bang! At House of Burlesque, our event organisers are here to create something special that perfectly suits your needs in Melbourne, bringing your guests a veritable burlesque wonderland that they will remember for a lifetime.
Organising any type of party is difficult enough, let alone one to ring in the new year – from arranging catering that works with different dietary requirements to taking care of guest lists and everything else involved, it can be a very stressful experience. We're here to shorten your to-do list by providing the very best NYE burlesque show for your Melbourne event and guarantee you'll be nothing less than impressed with the dancing and entertainment we deliver.
HOUSE OF BURLESQUE EVENTS

Our burlesque services stretch across all types of events
As well as catering for NYE events in Melbourne, our burlesque shows and other services can work with any number of different parties and celebrations.
If your BFF is soon to be married and you've been given the responsibility of arranging their 'final farewell', we can help make the night one they'll love. We have a range of hen's night and buck's party packages available, all at different price points and suitable for various budgets.
However, if you can't find something that's perfect for what you have planned, chat with us and we'd be happy to prepare a tailored solution just for you.
Book our burlesque dancers today
Would you like to work with our burlesque event organisers to build a unique package for your event, or are you ready to reserve a time and date?
Simply phone us directly on 0410 805 878 or send us an email and we'll be in touch with a response ASAP. Be sure to book our services well in advance to avoid disappointment!