Things are done with a heady dose of vaudevillian flair at House of Burlesque. The studio itself is a carnival-esque cave of red velvet couches and risqué art – the perfect setting to shake your thang with a hula hoop four – week course*.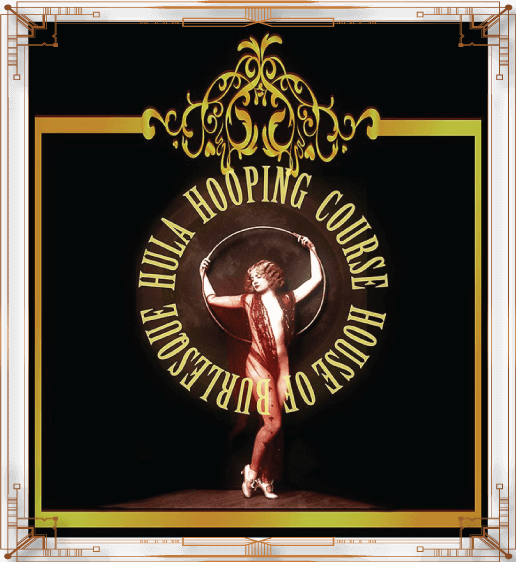 Things kick off with a meet-and-greet over pre-hooping mocktails, followed by some fun stretches to get you in the groove. Then one of our teaches who's been hooping internationally since she was eight, teaches moves like 'penguin hands', 'disco cat' and writing your name in cursive with an imaginary pencil between your legs, all to jazzy Charleston tunes. It's a warm and girly environment in which to have a go, perhaps look silly and definitely work up a sweat. Amateurs are warmly welcomed – just bring your exercise gear, leave your workday at the door and discover abdominal muscles you didn't know you had.
WHAT ABOUT THE HEALTH BENEFITS
Hula hooping has been found to trim your waist, hips, and thighs,whilst strengthening abdominal and lower back muscles. But the benefits don't stop there – it's also a fun aerobic session, which strengthens your abdomen, back, pelvis, and hips muscles. Thus assisting to support your spine, improve balance, posture, and your gorgeous sense of agility.
For all Students wanting to do the 12th week course leading up to performance night these are the things you will receive a fantastic saving of $450.
Hair in which normally cost $120 you get this free of charge, House of Burlesque pays for this
Makeup usually cost $90. You only pay $30
Photos of the performance night which would normally cost $250. You get this free of charge, House of Burlesque pays for this
$20 voucher off your next 4 week course
Enrolling in our Classes is easy.
Simply, pay the class fee via the PayPal link on this page.
A receipt is emailed to you immediately and you are guaranteed a spot in the class or you can just pay upon arrival.
If you need to reschedule the class, you may do so at no charge.
Simply email us at – info@houseofburlesque.com.au
We have private lessons and group lessons.
Private lessons start at $75 per hour.
12 week group course fee is $300 ($25 per class)
You can pay on a monthly basis or in full.
Classes run on one day per week for one hour .
Please call to book your place – 0410 805 878