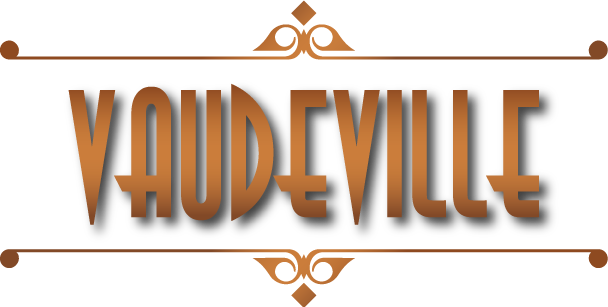 This class will be amazing as you will be learning acting and dance.
This class is only for students that would like to do a 12 week course leading up to a student night performance.
Class starts on – 25th of August 7pm until 8pm.
Please call to book your place: 041 08 05 878
VAUDEVILLE CLASS PACKAGE OPTIONS
Here is a insight to what vaudeville is
Vaudeville is a theatrical genre of variety entertainment. A typical vaudeville performance is made up of a series of separate, unrelated acts grouped together on a common bill. Types of acts have included popular and classical musicians, singers, dancers, comedians, magicians, female and male impersonators, acrobats, illustrated songs, jugglers, one-act plays or scenes from plays, athletes, lecturing celebrities, minstrels, and movies. A vaudeville performer is often referred to as a vaudevillian.
For all Students wanting to do the 12th week course leading up to performance night these are the things you will receive a fantastic saving of $450.
Hair in which normally cost $120 you get this free of charge, House of Burlesque pays for this
Makeup usually cost $90. You only pay $30
Photos of the performance night which would normally cost $250. You get this free of charge, House of Burlesque pays for this
$20 voucher off your next 4 week course
Enrolling in our Classes is easy.
Simply, pay the class fee via the PayPal link on this page.
A receipt is emailed to you immediately and you are guaranteed a spot in the class or you can just pay upon arrival.
If you need to reschedule the class, you may do so at no charge.
Simply email us at – info@houseofburlesque.com.au
We have private lessons and group lessons.
Private lessons start at $75 per hour.
12 week group course fee is $300 ($25 per class)
You can pay on a monthly basis or in full.
Classes run on one day per week for one hour .
Please call to book your place – 0410 805 878